CoreLogic Reports 32000 Foreclosures in Dec 2015 & Nationwide Foreclosures Down 23% from Dec 2014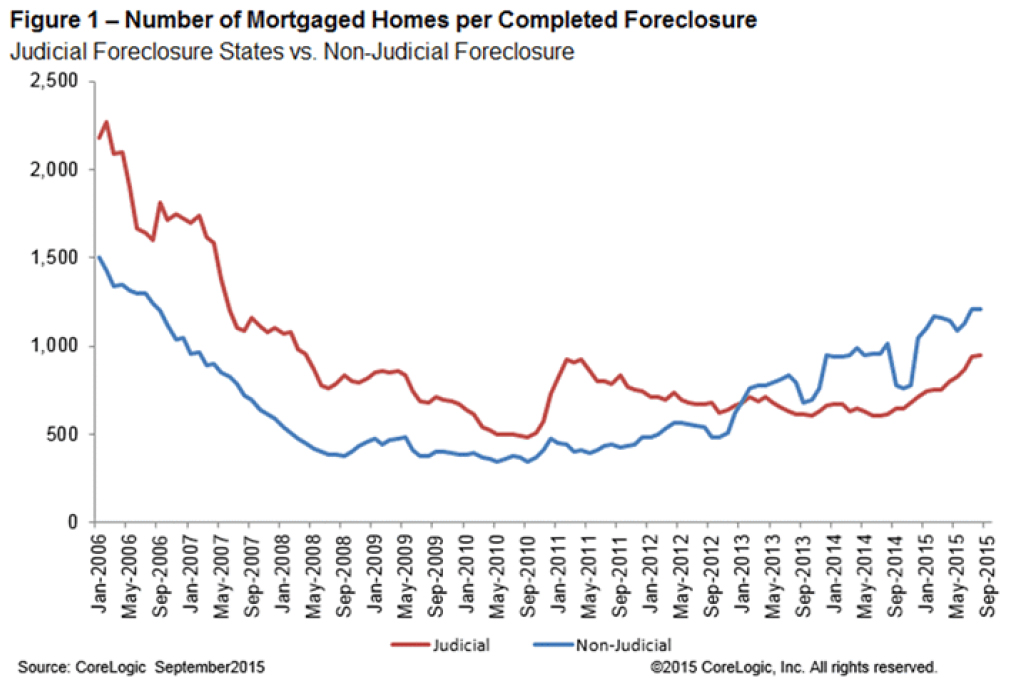 CoreLogic(registered company) (NYSE: CLGX), a top international property advice, analytics and data-enabled services provider, today released its December 2015 National Foreclosure Report which demonstrates the foreclosure inventory decreased by 23.8 percent and finished foreclosures decreased by 22.6 percent compared with December 2014. The variety of foreclosures that were finished nationally fell year over year December 2014 to 32,000 in from 41,000 in December 2015. The variety of finished foreclosures in December 2015 was down 72.8 percent from the peak of 117,722 in September 2010.
Experience the interactive Multimedia News Release here: http://www.multivu.com/players/English/71280557-corelogic-december-2015-foreclosure-report/
The foreclosure inventory finished foreclosures represent the absolute amount of houses lost to foreclosure and represents the variety of houses at some phase of the foreclosure procedure. Since the fiscal crisis started in September 2008, there have been around 6.1 million finished foreclosures across the country, and since homeownership rates peaked in the second quarter of 2004, there have been about 8 million houses lost to foreclosure.
As of December 2015, the national foreclosure inventory comprised about 433,000, or 1.1 percent, of all houses with a mortgage compared with 568,000 houses, or 1.5 percent, in December 2014. The December 2015 foreclosure inventory rate is the lowest for any month since November 2007.
CoreLogic additionally reports the variety of mortgages in serious delinquency (defined as 90 days or more past due, including loans in foreclosure or REO) decreased by 23.3 percent from December 2014 to December 2015, with 1.2 million mortgages, or 3.2 percent, in this group. The December 2015 serious delinquency rate is the lowest in eight years, since November 2007.
"Reflecting on the full-year foreclosure results for 2015, we can note that finished foreclosures are down more than 20 percent for the year, which is the cheapest amount since 2006, before the disaster," said Dr. Frank Nothaft, chief economist for CoreLogic. "Maryland, which is often described as a suburb of the sound D.C. marketplace, led the way with a 59-percent decline in foreclosures in 2015."
"The supply of distressed stock continues to decrease quickly. While this is favorable for the home market complete, in addition, it drives a decline in the inventory of affordable for-sale houses," said Anand Nallathambi, president and CEO of CoreLogic. "The dearth of housing stock, especially affordable inventory, is an increasing problem and will restrict a complete home retrieval in the short to medium duration."
Added December 2015 highlights:
On a month-over-month basis, finished foreclosures decreased by 5.6 percent to 32,000 in December 2015 from the 34,000 reported in November 2015.* Before the decline in the home market in 2007, as a basis of comparison, finished foreclosures averaged 21,000
The five states with the greatest amount of finished foreclosures for the 12 months ending in December 2015 were Florida (79,000), Michigan (50,000), Texas (30,000), Ohio (24,000) and Georgia (24,000). These five states accounted for nearly half of all finished foreclosures nationwide.
Four states as well as the District of Columbia had the lowest amount of finished foreclosures for the 12 months ending in December 2015: the District of Columbia (81), North Dakota (220), Wyoming (541), West Virginia (560) and Alaska (700).
Four states and the District of Columbia had the highest foreclosure inventory rate in December 2015: New Jersey (4.2 percent), New York (3.5 percent), Hawaii (2.4 percent), the District of Columbia (2.3 percent) and Florida (2.3 percent).
The five states with the lowest foreclosure inventory rate in December 2015 were Alaska (0.3 percent), Minnesota (0.3 percent), Colorado (0.4 percent), Arizona (0.4 percent) and Utah (0.4 percent).
November 2015, * data was revised. Revisions are normal, and to ensure correctness CoreLogic integrates recently released data to provide results that are updated.
Judicial Foreclosures States Rated by Finished Foreclosures
Non-Judicial Foreclosures States Rated by Finished Foreclosures
Foreclosure Data for Select Core Based Statistical Areas (CBSAs) Rated by Finished Foreclosures
Figure 1: Amount of Mortgaged Homes per Finished Foreclosure
Figure 2: Foreclosure Inventory as of December 2015
Figure 3 (is a map): Foreclosure Inventory by State Map
For on-going home trends and data, go to the CoreLogic Penetrations Website: http://www.corelogic.com/blog.
Methodology
The data in this report signifies foreclosure action reported through December 2015.
State data is separated by this report into judicial versus non-judicial foreclosure state groups. To be able to transfer a borrower into foreclosure in judicial foreclosure states, lenders must supply evidence to the courts of delinquency. In non-judicial foreclosure states, lenders can issue the borrower notices of default without court intervention. This really is an important difference since judicial states, generally, have foreclosure timelines that are more, thereby changing foreclosure data.
A finished foreclosure happens when a property is sold and results in the purchase of the house at auction by the bank, or by a third party, for example an investor. In the event the home has been bought by the creditor, it's transferred into the lending company 's real estate-owned (REO) inventory. In "foreclosure by advertisement" states, a redemption period starts following the auction and runs for a statutory period, e.g., six months. Throughout that span, the borrower may recover the home that is foreclosed by paying all sums due as computed under the statute. For purposes of the Foreclosure Report, because so few houses are actually redeemed following an auction, it's presumed the foreclosure procedure finishes in "foreclosure by advertisement" states at the conclusion of the auction.
The foreclosure inventory represents share and the amount of mortgaged houses which were put into the procedure for foreclosure by the mortgage servicer. When the mortgage reaches a certain degree of serious dereliction as ordered by the investor for the home mortgage mortgage servicers begin the foreclosure procedure. Once a foreclosure is "began," and absent the borrower paying all sums required to stop the foreclosure, the house stays in foreclosure until the finished foreclosure results in the deal to a third party at auction or the house enters the lender's REO inventory. The data in this report doesn't contain secondary liens and accounts for first liens against a property. The foreclosure inventory is measured just against houses that have an outstanding mortgage. Typically, houses without a mortgage liens aren't subject to foreclosure and are, thus, excluded from the evaluation. About one third of houses nationwide are owned outright and don't have a mortgage. CoreLogic has about 85 percent coverage of U.S. foreclosure data.
Source: CoreLogic
About CoreLogic
CoreLogic (NYSE: CLGX) is a top worldwide property advice, analytics and data-enabled services supplier. The organization 's combined info from public, contributory and proprietary sources contains over 4.5 billion records spanning more than 50 years, supplying comprehensive coverage of property, mortgages and other encumbrances, consumer credit, tenancy, place, danger threat and associated performance info. The marketplaces CoreLogic functions contain capital markets and mortgage finance, insurance, real estate, as well as the public sector. CoreLogic provides value to customers through managed services, analytics, workflow technology, advisory and exceptional information. Customers rely on CoreLogic to help manage and identify growth opportunities, improve performance and mitigate risk. Headquartered in Irvine, Calif., CoreLogic runs in North America, Western Europe and Asia Pacific. To find out more, please see www.corelogic.com.
CORELOGIC and the CoreLogic symbol are trademarks of CoreLogic, Inc. and/or its subsidiary companies.
Created On: February 9, 2016
Last Updated On: February 9th, 2016 at 11:14 pm